Expat Interviews Ecuador: Interviews with Residents and Former Residents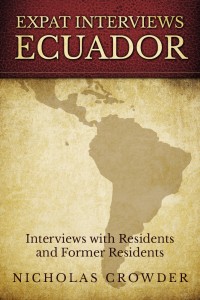 Ecuador without question is on the map of most anyone considering moving abroad. There have been a number of promoters and press outlets touting the low cost of living, remarkable geography and culture of Ecuador. Any time someone considers a move overseas, it is serious business and the more information you have, the more informed decision you can make.
In this new book, Mr. Crowder, the author of 100 Points to Consider Before Moving or Retiring in Ecuador provides the reader dozens of interviews with those that have researched, moved to, and yes some of the expats that have left Ecuador. These interviews will be of interest to anyone seriously contemplating a move to Ecuador. They will provide the reader with unique insights as to how they chose Ecuador as a place to live and what their experiences living there have been or were. The respondents are not identified in the book to insure that you receive frank and open answers as to life in Ecuador. PURCHASE FROM AMAZON HERE
ONE READER SAID:
"If you are at all interested in moving to Ecuador this is an essential resource to help you make your decision.
The author did an excellent job of interviewing a wide variety of people from retirees to single moms, singles and married couples, and heterosexuals and homosexuals. Their experiences, both good and bad, are reported with respect and attention to detail.
The author covers every aspect of living in Ecuador from the costs of living, banking and visa concerns, adjustments to the culture and language, to crime and corruption.
I have learned so much about life as an expat in Ecuador from reading this comprehensive volume! I really cannot recommend it enough to those considering a move to there. It really is a must read."