Ecuador: Famed Photojournalist, professor dead, victim of brutal beating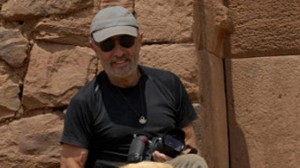 MALACATOS, LOJA, ECUADOR (Developing Story)
EXPAT FROM ITALY APPARENTLY DIES FROM INJURIES SUSTAINED FROM A BRAZEN SAVAGE ATTACK AND HOME INVASION
Some segments of this report is provided by an anonymous source believed to be reliable.
Filcittadino.it reported that Mauro Burzio, 68, a native of Venasca Italy who spent decades abroad and lived in Ecuador for the last ten years was found dead at his home near Malacatos, Loja, Ecuador. However, according to an anonymous source he passed away in a hospital on January 22nd or 23rd in Loja. It is believed that his death was a result of the injuries he sustained in a violent home invasion at approximately 5:00 pm on December 10th, 2016. Apparently Mr. Burzio was attacked by a gang of thugs outside his residence and was hit in the head with a hammer. The suspected four assailants drug him into the residence while two of the suspects held pistols to his head and a knife to his throat. He was stabbed, kicked and left unconscious. One of the suspects may have known the victim as the group seemed to be aware of his security system, schedule, and that the residence contained valuable camera equipment. Cash was also taken during the robbery along with the photographic equipment. At least one of the attackers is believed to be Colombian (not confirmed).
His partner/wife (Chilean national) not at home and and visiting Quito became alarmed when she was unable to contact the victim. She alerted a local security guard who found Mr. Burzio at his home tied up and in an unconscious state.  He was transported to a local medical facility in Vilcabamba and then transferred to a hospital in Loja. The source believes he has been hospitalized since the attack until his death.
SAFETY, SECURITY, IN ECUADOR – READ THIS BOOK 100 POINTS TO CONSIDER BEFORE MOVING OR RETIRING IN ECUADOR
Mr. Burzio  graduated in Milan, Professor of Literature until the 80s and has spent decades touring the world, especially Africa and South America. A former professor, he is widely know for his photo journalistic work having written a number of books.
ONE SOURCE FROM ITALIAN PRESS REGARDING DEATH OF MAURO BURZIO