U.S. citizen from Washington State Murdered in Ecuador
UPDATE TO MURDER OF U.S. EXPAT AND ASSAULT OF HIS WIFE (MARCH 6, 2019.
According to diario expreso Robert S. Almquist and his wife Marcia Miller Almquist were in their residence on Saturday evening in La Armenia (Quito) Ecuador. They did not set the alarm to the house and Mrs. Almquist after midnight was alerted to a light on in the bathroom. Mr. Almquist found a man hiding in the bathroom and a struggle between the two ensued. The victim was stabbed in the lung and the thorax. The assailant also injured the hand of the wife. She then hid and locked herself in a room. When she believed the assailant had left, she exited the residence and sought help from neighbors. However, nothing could be done to save Mr. Almquist.
On Sunday a search around the residence discovered a knife and the police reviewed security cameras and identified the suspect. He was then apprehended by police when he attempted to sell some of the stolen items in a commercial center. The alleged murderer is identified as a Venezuelan national. Press Reader
Developing Story
On March 2, 2019, Robert S. Almquist (77) and his wife Marcia Miller Almquist (77) were victims of a robbery/ home invasion at their residence in La Armenia, Ecuador. Mr. Almquist according to reports on social media was murdered during the incident on Saturday evening. His wife survived but it is not known if she was physically assaulted. La Armenia Conocoto is a well to do do enclave located 20.5 km from Quito.
On March 4, 2019, ecuadorplayec on Instagram reported a Venezuelan national was detained by DINASED for the murder of the victim and he attempted to sell the stolen cellphone at a market in Quito.
"#DINASED captures a Venezuelan citizen who would have murdered an American in #Conocoto in the south of Oriente of #Quito, to steal his belongings." (Translated from Instagram)
There are still no reports as to the method used in the murder of the American expat or if his wife was injured during the assault. Also, it is not known if other assailants may have been involved. Efforts are being made by LACE to contact Mr. Almquist's family in the U.S. to seek a statement. According to public databases he held a degree from Carleton College in Minnesota in history. He was retired as a Social Services Manager and Educator . Also, he previously worked for Plymouth Housing in Seattle, WA., an organization dedicated to assisting the homeless in establishing housing.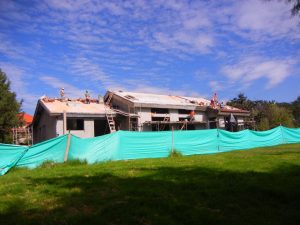 Photo of Robert Almquist's residence in Ecuador believed to be where his murder was committed (unconfirmed) Picture date approximately 2012 before completion. (social media)
——————————————————-
THINKING OF MOVING TO ECUADOR? READ THIS BOOK FIRST/WHAT OTHERS MAY NOT TELL YOU