Ecuador: Body of U.S. Expat Jonathan Gilchrist found, buried in cement
THIS IS A DEVELOPING STORY/NOT ALL INFORMATION HAS BEEN NOT BEEN VERIFIED
BODY OF U.S. CITIZEN / EXPAT DISCOVERED BURIED UNDER CONCRETE IN RESIDENCE / TWO DETAINED IN THE INVESTIGATION
On January 17, 2017, Latinamericacurrentevents.com reported that U.S. citizen Jonathan Gilchrist, from Houston Texas. On January 12, 2017 Facebook Group "Ecuador Emergency" received a report that Mr. Gilchrist a resident of Ecuador and residing in Salinas appeared to be missing. After significant research, Mr. Gilchrist could not be located. In fact some speculated that he might have chosen to simply leave and did not want to be contacted. This website published a story of some of the facts and information about his apparent disappearance. You can find the findings at this link (Jonathan Gilchrist Missing)
Through the last several months efforts have continued to try to answer the mystery of what may have happened to him. Today it has been announced that his remains apparently have been found at a home in Guayaquil. Twitter Account Ivan Velescaca posted:
U.S. citizen gilchrist charles (56) missing for six months in Guayaquil. The body was found in this house. (Literal translation) Note: Jonathan Gilchrist's middle name is Charles and LACE believes that previous information shows his age being 65. These two discrepancies appear to be errors on the by the poster.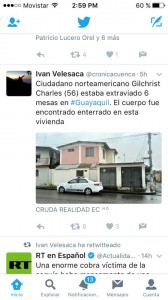 ——————————————————————–
Eluniverso.com reported That the body of a man who has been missing since October was found in an area north of Guayaquil named "Mucho Lote". His remains were discovered buried under several layers of concrete. The body has been identified.
The Fire Department assisted in the recovery of the body according to television reports. The police reported that the deceased owned several properties in the country and that their investigation reveals that three or four people may have been involved in the crime. Two individuals have been detained in the investigation. Read Article
SAFETY, SECURITY, HEALTH IN ECUADOR – THIS IS ONE BOOK THAT IS A MUST READ
MAP IS APPROXIMATE LOCATION