Spanish Pick-Up Lines — Spanish Piropos
If you love and adore Latina women, this is the book for you. A unique aspect to the Spanish language and Hispanic culture is the use of flirtations and phrases by males for women. These are referred to as piropos. In English they may also referred to as pick-up lines.
This book provides the reader with over 500 unique Spanish piropos, Spanish flirtations, and Spanish phrases to impress that alluring Latina in your life. Many of the piropos are romantic, humorous, and entertaining. It for sure will improve one's knowledge of idiomatic and slang aspects of the Spanish language and increase a speaker's cultural fluency.
NOTE: A few of the piropos in this book are sexual in nature. The reader should be advised that some of these may be considered offensive to the receiver. They are presented for educational purposes. Each entry includes a full English translation.
This edition is available on Amazon for Kindle. If you don't have a Kindle Amazon has a number of free apps for download that will allow you to read the book on almost any device.
BUY BOOK NOW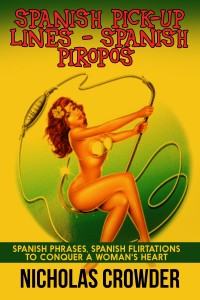 BUY THESE OTHER BOOKS BY THE AUTHOR
Spanish Slang Ecuador
100 Points to Consider Before Moving or Retiring in Ecuador