Ecuador's Greatest Conman Scams Swiss Tourists
Ecuador's Greatest Conman Scams Swiss Tourists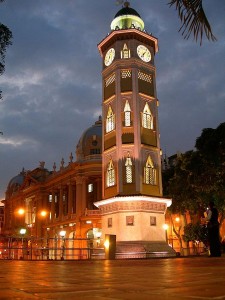 From the Upcoming Book ECUATROCITY by Nicholas Crowder.
Scam artists exist around the world and Ecuador is no exception. One of the most unique scams happened back in 1980, in the port city of Guayaquil. A couple of tourists from Switzerland were amazed at the beautiful Moorish style clock tower that stands on the malecon overlooking the Guayas river.
The couple noticed the Santay Island which sits in the middle of the river. They wanted to take photographs of the lush sparsely inhabited isle. On the Malecon they met a charming, handsome, well dressed man from Muisne, Ecuador. They asked Sigifredo Dante Reyes if they could go up into the tower to photograph the island. Reyes could do better than that. He claimed to own the beautiful tower which just happened to contain a clock which he claimed was constructed in Switzerland. And he said he would sell it to them that he had inherited the beautiful monument.
The gullible foreigners fell for his charm and gracious manner and they agreed to purchase the municipal owned tower for the price of 160,000 sucres ($6,000 USD). He drew up the fake paperwork and false title and the hit was on. You can imagine the embarrassment the couple felt and the lighter pockets they had when they discovered they they had been scammed.
This particular scam received world-wide attention and Dante Reyes would become affectionately known as the "Cuentero de Muisine" (The Story Teller of Muisine). The word story teller can often have a negative connotation as a scamster in Ecuador. The "Cuentero de Muisine" pulled a number of scams on others over his lifetime. He died in 2013, in a Quito prison during open heart surgery. Sources: Wikipedia, Eluniverso.com
—————————————–
The above story is one of hundreds presented in the upcoming book "Crime, Murder, & Mayhem – ECUATROCITY – An intelligence/Travel Anthology of Crime, Safety, Security for the traveler and expat in Ecuador. (Release in Fall of 2017) Nicholas Crowder is a retired law enforcement officer and has been involved in the study of Ecuador for thirty six years. He has also written the book "100 Points to Consider Before Moving or Retiring in Ecuador ", a deep analysis of many of the challenges and obstacles that anyone moving to Ecuador may face. The book contains significant cultural information not available in other books.