Ecuador: Gringotree.com, Popular Website for Expats Temporarily Shut Down by Tax Authorities SRI
For the thousands of visitors daily to the popular website Gringotree.com, readers were greeted by a large red and white sign on their page stating "CLAUSURADO" CLOSED, this morning. The message indicated they have been shutdown for failure or omission to produce a receipt of sale or factura (comprabante de venta). The following statement was made by Neil Mailer regarding the closing and as to the reason the firm was closed and information as to when GRINGOTREE.COM will return online later this month.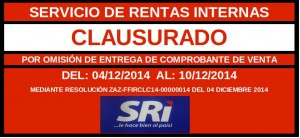 ———————————————————–
FROM FACEBOOK – ECUADOR EXPATS
Neil Mailer
4 hrs · Edited
Attention fellow GringoTree readers,
Firstly, we'd like to take this opportunity to thank you for reading GringoTree and for choosing to participate in the expat community. Our readers are important to us, and we have been working hard to bring you even better service and information. 2015 is sure to be an exciting year and we plan to offer you more than ever.
However, as you may have seen or been notified by now, the GringoTree site has been shut down by the SRI. While many of you will speculate, I am here to address the situation. Our offices were closed on Thursday evening as the result of a missing factura from an online purchase to our website. We were not able to process the factura within the time of purchase required and this has resulted in us having to close our doors until the 11th of December.
Also as many of you know we share offices with other business entities as well as Hearts of Gold. Unfortunately, because of the office sharing, everyone else has also been affected by this and have been locked out. This does not mean they have been shut down but they will not be able to work from the office until our closure has been lifted.
On December 11th, GringoTree will be fully operational once again. We apologize for any inconvenience this may have caused. If you have any questions or concerns please feel free to email me directly at neilmailer@gmail.com and I will happily answer any questions you may have and explain these unfortunate circumstances. If you are an advertiser with GringoTree, we will do whatever we can to make up for any lost time during this process. Thank you for you patience and understanding during this time.
Regards,
————————————————————
Neil Mailer Hey, please feel free to send me any of your questions or concerns in a personal message or email and I will be glad to answer them.
Yes the office was shut down because a online fractura was not issued for the purchase of a single post. Nothing hokey about it. If you have ever tried to do business in Ecuador, you would have some idea about the crazy stuff we have to deal with on a regular basis. It is very unfortunate but we can't change the situation in anyway. I felt it was important to address the situation now and handle any of your questions personally so if you would like to talk amongst yourselves, there isnt anything I can do about that. If you would like to have your questions answered, I would be happy to address them, please don't hesitate to contact me directly. Thanks again for your patience and understanding during this time.
————————————————————
THINKING OF MOVING TO ECUADOR – READ THIS BOOK