Vilcabamba, Ecuador: Stunning Custom Residence for Sale with guest home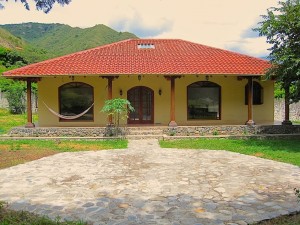 sponsored post
VILCABAMBA, ECUADOR HOUSE AND PROPERTY FOR SALE
A Fully Furnished Residence in a Gated Community in the "Valley of Longevity"
About This Home
This stunning Vilcabamba property with breath taking mountainous views, 2/3rds protected by a 10 ft tall strong stonewall securing your Incan style gardens, a Main Home and a Guest Home with high ceilings, lofts, complete furnishings and total 3497 sq ft (325 m2) indoor space is now open for viewing for availability to soon be made.
The property is valued at $430,000 and is now being auctioned down to $ 364,000 or Best offer and will be sold off now as outlined to all parties
Casa de Hermitage is hidden inside the 663 acre luxury gated community within Vilcabamba's, "Valley of Longevity."
This Property Includes:
2 Houses on the Lot
Completed home 150 m2 /1614 ft2, one fully completed with:
Large Balcony w Space for 2 Hammocks
2 Bedrooms
2 Bathrooms (one off the Master Bedroom)
Living Room
Dining Area
Kitchen
Loft
Laundry Room
Large Storage Room
Exterior Outside Cleaning Area with Sink
Inca Style Steeped Garden Beds
Meditation Stone Floor Area Outside
Stone Driveway
Parking Area for 4
Mature Trees
Fruit Trees
Reinforced Steel Accordion Gates Equipped on all Windows and Doors of Household w/ Wood Effect
Fully Enclosed a Protected within 3 meter High Stone Concrete Walls
Entrance Gate with Camera Intercom System
Fully Furnished; Kitchen, Dining Area, Living Room, Bedrooms and Laundry Room
Over $14,000 in Extras (including the furnishings) Included
In addition, the property has a second Guest Home 175m2 / 1883 sq ft with a even larger balcony, same layout as 1st home and 70% completed leaving the option of putting your own personal touches, taste & preferences.
There are no more properties as precious as this one in Vilcabamba's premiere 663 acre ranch.
Contact the owner soonest to avoid disappointment. The owner has now built second home hence sale for budget reasons.
VISIT THE WEBSITE FOR THIS PROPERTY
CONTACT OWNER VIA EMAIL dsmithlarter@gmail.com

Vilcabamba's Premiere Gated Community
Casa de Hermitage is located in a 663-acre ranch, located in the beautiful Andes Mountains in Southern Ecuador. The ranch is a short, two mile drive from the internationally renowned village of Vilcabamba, Ecuador.
Vilcabamba Gated Community Entrance
Gated Community Entrance
The property is bordered and protected on three sides by the Andes Mountains and on the fourth by the Vilcabamba River. The setting within one of the world's most spectacular regions, is extraordinary, magical, private, tranquil and soothing. Because of this mountainous region, flat land is scarce… this property is one of the view areas you'll find in this condition.
The vast majority of the property is preserved in its natural habitat, ideal for hiking, horseback riding and just generally feeling fantastic. With Vilcabamba's location in the World being close to the equator and moderately high in the mountains, enables the weather to be perfect year round… a term we call "perpetual late spring / early summer time." The days are warm and the nights are mild, never too hot or too cold.

Map not exact location of residence